What springs to mind when your customers think of your bakery? Is it that scent of freshly baked bread, soft golden loaves along the shelf, or perhaps pastries and sweets? The last thing they want to imagine is dirt and mould contamination that would do anything to ruin the flavour or visual pleasure of a tasty treat, but alas, without the correct cleaning regime, it is a real risk. It's unpleasant to think that some bakeries don't go any further than removing the remains of the last product made when it comes to cleaning. Still, cleanliness is truly a necessary ingredient in the success or failure of any food business. A clean, healthy bakery will keep customers coming back time and again. Bakeries, by nature, are dusty environments with a combination of flour, water, machinery, chemicals, and ovens, creating a messy environment at every level. And while ground level may be easy to clean, one often overlooked area can make a big difference to the health and longevity of a bakery – and that's high-level. 
What Do You Mean By High-Level Cleaning?
This type of cleaning is about tackling those high and difficult-to-reach places. This may be from an elevated room or a space several stories in height, such as an auditorium or a sports centre. High-level is specialist work, usually carried out with the assistance of elevated work platforms such as a scissor lift, cherry picker, or scaffolding. Most premises will need high-level cleaning at some point, whether outside the building or inside. The outside clean will keep the building esthetically pleasing, while inside, it is often a serious matter of health and safety and maintaining a sanitary and fire-safe environment. In addition, many areas benefit from interior cleaning, including roof girders, exposed pipes, the sprinkler system, ducting, electric cables, ventilation systems, extractor fans, fire sensors, ceilings, light fittings, ovens, and much more. 
What Are the Benefits?
Food manufacturing, including baking, creates large amounts of dust that can contaminate food, grease can build up from the oven and on surfaces, and much more. This makes every type of cleaning in the space vital, including the essential of adding a high-level cleaning service schedule. This will improve the working environment for staff, and help the company present a professional image with a clean and fresh space everywhere someone may cast their eye. It also offers an additional element to preventative maintenance to stop product contamination, reduce the risk of fire, help to maintain the building and structure, extend the life of baking machinery, and more. High-level cleaning can even improve light coming into the building – an essential component in employee health and safety. 
Why Would My Venue Benefit From This?
Great question, and besides the reasons above, there are a few more for those who need a tad more persuasion on high-level bakery cleaning. The points below will no doubt convince you that this is the way forward to keep your bakery and business in tip-top condition and keep that revenue coming in.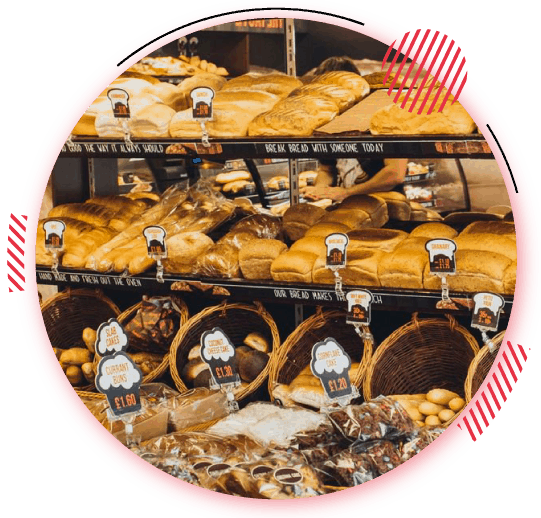 High-Level Cleaning Will Give an Advantage Over Your Competition
When customers walk in your door or see photos online, they want to feel the urge to rush out and stock up on your goods. They want to visit somewhere clean and tidy. They like to frequent a shop that comforts them, and where they are safe in the knowledge that eating the baked goods produced within is safe. Part of establishing this type of trust and faith in a company is maintaining a visibly clean and tidy space with sanitation as the number one priority. This will give you a competitive advantage over other local bakeries who don't take the same time, effort, and care of their bakery. Additionally, a clean and orderly workplace is essential to protect employees by limiting allergens and illness-causing nasties, and with a healthy workforce, your business can have minimal downtime.
High-level Cleaning Keeps You Compliant
Good sanitation starts with every individual working in a bakery and on every surface. Whether a place or space is seen or out of sight, it will make a difference to the health of the bakery. Careful attention to hygiene will keep the food free of pathogens and bacteria. And while every bakery needs to establish and enforce strict standards of cleanliness, the government has a selection which can be found here. Part of the legislation includes cleaning the entire bakery at every level, so get ahead of the inspectors and get in some high-level cleaners. 
Helps Maintain Equipment
Bakers and bakeries rely on machines, including mixers, dough kneaders, bread slicers, and more, to prepare goods quickly and in commercial quantities. These processes are known to create dust and contaminants that can settle around the space. This can get into mechanisms and cause issues. If these substances settle in high and hard-to-reach places, this accumulation can double the problems. Clean equipment that isn't fighting the constant settling of debris will result in a higher quality product for the customer and ensure the bakery's positive reputation. 
Keep Contaminants to a Minimum
Dust and debris can collect an assortment of pathogens and bacteria, and keeping contaminants to a minimum is vital. It's a catastrophe for any business owner when their customers get sick, or staff need time off for illness. High-level cleaning can remove grease and dust particles that build up on the walls, ceiling, and in sneaky hard-to-reach areas of the bakery to provide peace of mind.