Importance of


Hotel Kitchen Cleaning/Maintenance
One of the most important areas within any hotel is the restaurant kitchen and cooking equipment. One failure can mean an entire day's business ruined or worse still, a prolonged closure of your kitchen area entirely. To avoid any such controversy or worse still, prolonged closures, it's important that you carry out regular hotel kitchen cleaning and maintenance.
Here at Grease Gone, we're the UK's leading commercial cleaning company. We specialise in commercial kitchen cleaning, focusing on areas such as vents and extractor fans to not only avoid the build up of grease and toxic fumes but help ensure your kitchen space is as safe as it is clean.
Book Now. Grease (and Dirt) Gone!
Book Now
We Can Clean Most Commercial Kitchens
But Our Expertise Focus On Providing Commercial Cleaning Services For:
Grease Gone Have You Covered
Our specialist teams will enter your kitchen and provide you with an in-depth clean, using the very latest equipment along with the best cleaning solutions – all of which are non-toxic and safe for food preparation areas. We have been carrying out commercial kitchen cleaning and maintenance for over twenty years and during that time, have gained a keen insight into not only what's needed but what works best.
Over those twenty years, we've also been lucky enough to cultivate perhaps one of the most experienced teams out there. This means that we not only provide the best quality service possible but it also means we can ensure all services are carried out using our own teams too. 
That means no outsourcing or sub-contracting. Not only does this provide a much more efficient service for you, it also means a more cost effective service too as we encounter no outsourcing costs. While we could take advantage of this cost-effective approach, we instead choose to pass this saving down to you, our customer. This has made us one of the most affordable companies out there and it's something we'll continue to strive for, for many years to come.
Clients Choose Grease Gone


Time & Time Again
Our team at Grease Gone are regularly scheduled to clean commercial hotel kitchens for some of the most high profile clients in the UK. In fact, we do so time and again, with an incredibly high client retention rate.
This is thanks to high standards and top results throughout as well as a strict understanding of the commercial food sector and subsequent laws – ensuring you're compliant at all times. As members of BESA and BESCA, you can trust in our team to provide you with the most thorough and compliant clean possible. What's more, you can also enjoy great flexibility as we understand the need for cleaning services out of hours.
From kitchen ducts and extractor fans to vents, ovens, fridge freezers, surfaces and even structural cleaning on ceilings, floors and walls; Grease Gone has you covered.
Contact Us Today
Flexible, affordable, reliable and trusted members of governing bodies within our industry; it begs the question, why wouldn't you use Grease Gone? For more information, contact us today on 02088 663 413.
Our team will be more than happy to help you arrange your next hotel kitchen deep clean or begin scheduling much needed regular maintenance at a time and date to suit you.
Book Now. Grease (and Dirt) Gone!
Book Now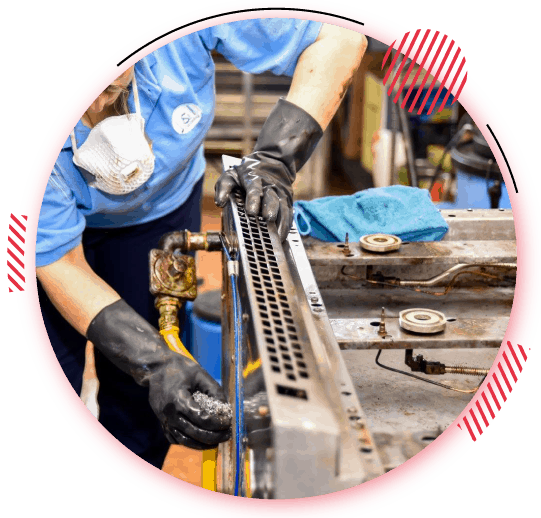 One click away from a Dust Free Facility, We have proof!
Book your Appointment Today, Our Team are always on hand.