Japanese teppanyaki restaurants are a delicious and increasing restaurant choice and are a unique experience where diners watch the chef prepare food in front of them. The word teppanyaki combines the word teppan meaning "iron plate" and yaki meaning "grilled", describing how the food is prepared in the restaurant and in front of customers.
With the popularity of these restaurants, the iron plates make a lot of food each day and produce a great deal of grease. It is particularly important to clean these types of merged kitchen and dining areas for both the next day's service and to ensure client health and safety. An average commercial kitchen requires cleaning after each service alongside regular deep cleaning by professionals and a grill setup restaurant is no different.
Surface Material Will Determine Care
Knowing how best to care for your particular teppanyaki grill will increase its lifespan and profitability for years to come, and ensure each piece of food cooked on it is delicious. Although the name says "iron", the actual material the teppanyaki grill is made from may vary.
A commercial grill surface may have different cleaning needs depending on whether it's iron, stainless steel, or chrome and each needs proper care and regular maintenance will keep it in good shape. Some may do well with particular abrasives and cleaning products, while others may be ruined by it. Some may need cleaning between each order, others may not.
Book Now
It's also worth considering ventilation and airflow – as the kitchen is in the restaurant, it's essential to ensure all the systems are kept in the best working order possible.
This means cleaning grease and grime regularly off surfaces, air outlets and ducts, and ensuring that air filtration systems don't get clogged up. The extractor above the grill must also be checked and cleaned regularly so the restaurant doesn't become full of smoke, steam, or any unpleasant smells.
Book Now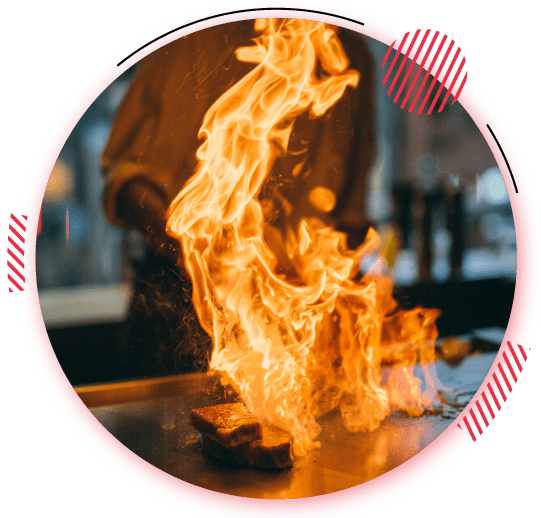 Grease and grime are also fire hazards, made even more dangerous as customers are sitting around the grill. Keeping any hazardous or flammable substances off customer areas alongside the main cooking area is essential to keeping the restaurant safe for everyone.
No one likes to sit somewhere that feels slimy, greasy or uncomfortable, and how comfortable a customer is will determine if they will come back.
Book Now
Book A Deep Clean For Your Teppanyaki Restaurant
Cleanliness is vital when running a venue, especially when patrons are fireside and in the action, which creates unique risks. Even making minor changes to the restaurant cleaning and safety schedule can make a big difference as cleanliness significantly impacts business operations and the bottom line.
When you need the help of a professional, reach out to Grease Gone Commercial Cleaning London, We help businesses all over London and the UK with our deep clean services. We are experts in every aspect of restaurant cleaning, including commercial kitchens, so call us today for more information or to receive a quote.