A commercial kitchen should be deep cleaned regularly to ensure not only a safe environment for both staff and customers but also to ensure your kitchen remains on the right side of the law, adhering to the necessary local regulations.
With regular deep cleaning however, you won't just be making sure your kitchen is a safe environment in which to prepare food but you'll also be enjoying a whole host of benefits too. To give you a clearer idea, here are some of the biggest benefits you could see from regular deep cleaning of your commercial kitchen.
Better Working Conditions For Staff
By having a professional and thorough kitchen deep clean, you'll help provide a much cleaner and healthier environment for your staff. From ventilation systems to surfaces, touch points and even equipment, you can ensure a clean environment and fresh circulating air at all times. Not only will your customers thank you for it but your staff will feel more confident in their working environment. This will ultimately boost moral.
Call to Action / Link
Better Levels Of Hygiene
With regular deep cleans your hygiene levels will naturally improve throughout your entire commercial kitchen. Regular deep cleaning will not only reduce cross contamination but will help prevent the spread of viruses and bacteria while reducing the chances of food borne diseases such as salmonella and E.coli. From surfaces to equipment, regular deep cleaning will ensure your kitchen is a safe environment to prepare food.
By ensuring your kitchen boasts as high a standard of cleanliness as possible, you will ultimately eliminate the risk of a pest infestation. To keep the risk as low as possible, we recommend having a deep clean as regularly as every 6 to 8 weeks.
Call to Action / Link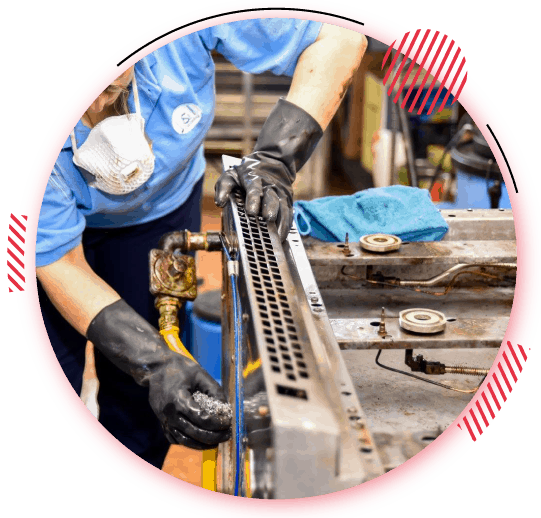 Longer Lifespan Of Equipment
A build up of dust, debris and grease on equipment will do a lot more damage than most people realise. With regular deep cleaning however, you can avoid this happening completely. Equipment remains consistently cleaned and free of damage from grease and dirt build-ups.
Heightened Efficiency
Last but not least, many notice a much higher level of efficiency from their workforce. Thanks to a consistently clean kitchen, team members have more confidence in their work space, morale is raised and as a result, many work at a more efficient rate and with equipment consistently cleaned, downtime is greatly reduced too.
Contact The Experts
If you'd like to find out more information on kitchen deep cleaning or better yet, want to book in regular deep cleaning for your commercial kitchen, please don't hesitate to contact our friendly team today on 020 88663 413. We'll be only too happy to provide you with the most professional deep clean available in the UK and create a bespoke schedule to suit you and your needs.