Fire safety is deadly serious. Whether you are the assigned "Responsible Person" overseeing your company's fire safety or perhaps running a business that requires you to take charge, you must be aware of your legal obligations when it comes to fire safety regulations. Compliance with fire safety legislation is essential to stay open for business across England and Wales, with rules mandated in the Regulatory Reform (Fire Safety) Order 2005, often referred to as the Fire Safety Order. The laws contained in the order apply to most public buildings and structures, excluding private homes. 
Restaurants, entertainment venues, and other commercial premises have particular susceptibility to fire due to the high volume of people using the space, kitchens and different heated environments, and the use of chemicals with flammable properties. There is also usually more than one person responsible for safety management, so if not managed, the reliance on many people for maintenance can have its own issues.
Often, if the worst was to happen and a fire broke out, the repair costs are too steep for an owner to repair. 60% of businesses that experience a major incident never re-open or close due to the financial burden. Add to that calamity the possibility of serious injuries or loss of life, and a fire's weight becomes exponential with lifetime repercussions. 
In a restaurant or entertainment venue, fires are often linked to a lack of staff training leading to accidents, kitchen incidents, and cleanliness issues that provide ample flammable fuel to feed a fire, such as greasy ducts and surfaces. Restaurant fires often have three primary lead causes: 25% of kitchen fires start from kitchen appliances, 23% from the cooker, and 17% from electrical issues. Beyond that, if staff are not trained effectively to quickly deal with a small fire, an incident can rapidly escalate. Simple venue cleaning and staff safety training helps reduce fire spreading, saving businesses and lives in the process.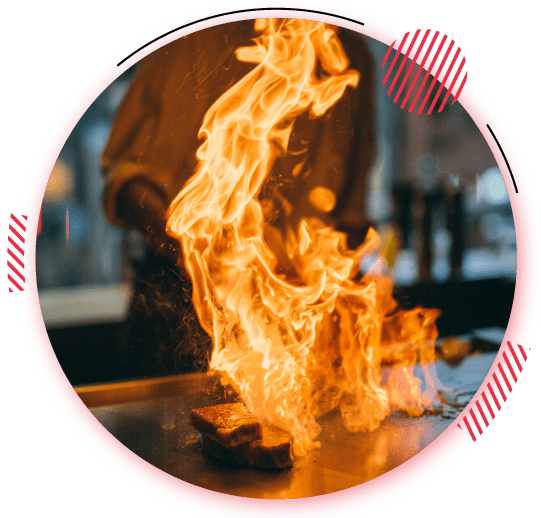 Common Fire Risks in Commercial Premises
Lack of ducting cleanliness and maintenance

Lack of proper fire safety equipment

Lack of appliance testing

Faulty Equipment

Electrical lighting placed close to flammable material 

Cooking Techniques, including overheating oils or deep fat fryers

Tumble Dryers clogged with lint and debris

Outdoor areas with patio heaters and a gas supply

Storage or rubbish obstructing exits, ventilation, or ducts

Insufficient ventilation

that may be clogged with flammable debris
Book Now
So, What Are Your Fire Safety Responsibilities?
You, or the designated responsible person, must ensure the premises reach fire safety standards and maintain them. This includes regular cleaning, maintenance, and safety training for all staff who work in the building, no matter their position in the company. 
Book Now
Fire safety training requirements
requirements vary between businesses but generally include:
Fire awareness induction

Regular refresher or additional training for any business changes

Training for employees allocated fire safety duties

Skills training such as the use of fire extinguishers
Risk Assessment
It is compulsory to conduct detailed assessments to identify risks and hazards in commercial premises. An emergency plan for the building is also a legal requirement.
By law, the risk assessment and emergency plan should be completed by a competent and experienced person. Both must be recorded and kept on hand for any reporting or inspection that authorities may conduct. 
Book Now
Compliance
To keep a business open, compliance is essential. Repercussions for lack of adherence in the event of an inspection from your local authorities can range from a warning to prosecution with a fine or imprisonment enforced for serious offences.
Keeping On Top of Fire Safety
Fire safety is certainly not a one-person job – everyone has a hand in keeping a business safe. We recommend getting a professional team involved to keep everyone safe and to stop fires from starting in the first place. Your experienced professional can offer support for duct checking, ventilation cleaning and maintenance, fire dampers maintenance including functional and shutter testing, and cleaning and maintenance of extinguishers. Periodic cleaning and maintenance should also be prioritised and booked ahead of time so nothing is overlooked or missed.
Book a Deep Clean to Keep Everyone Safer
Contact Grease Gone Commercial Cleaning London for all your fire safety maintenance needs. We have helped many businesses around London with professional cleaning services, duct and ventilation cleaning, complete deep cleaning, and fire safety checks covering everything you need to be compliant with Regulatory Reform (Fire Safety) Order 2005. We are experts in cleaning and fire safety, so we know the importance of a fully law-abiding venue or business.